SUPERNOVA FRUITS
installation
(2022)
"There have always been bananas at my house, there are bananas in my sister's garden, there are bananas in my father's garden, there are bananas at my grandfather's, well... And as a result, it's a fruit that we don't even buy any more, in fact. So I don't need to go to a béké to buy a banana when I'm in Martinique, OK?!" -
Célia Potiron
Supernova Fruits
is a three-day workshop among queer racialized people where the intention is to question and experiment around the idea of unity, interdependence, seeding and radical intergenerational caring. All this while evoking broad topics such as family, ancestrality, nurturing policies, extractivism, pleasure, food, blackness, gender/queerness, through gardening, street actions, creative writing and performance.
Supernova Fruits, film stills, co-directed by Anna Tje and Ana-Paula Mathias, 2021 -
watch here
Through the installation
Supernova Fruits, I'm so glad you chose me
, I make a declaration of love to the Safou fruit that opened my research on so-called exotic fruits (or fruits of the future). The properties of the fruit and its core or seed, one of the reference points in my practice, inspired me to create a central sculptural piece entitled THE CORE, a seating device, with modular seats in bazin fabric bought in 18th arrondissement of Paris (African district) to 'make community.'
View of The Core, sculpture/seating device, (bazin fabric, foam, 1m80x1m40), ceramics © Daniel Vincent Hansen
This version of The Core was made at Big Time Studio Paris thanks to upholsterer Anaïs Jarnoux.
In addition to this central piece (
The Core
), the installation shows an archival film with images from the Supernova Fruits workshop that took place in May 2021 in the African district, as well as a 45 rpm vinyl with a soundtrack of intimate conversations from the workshop and the poem
Safou Lover
, as well as ceramics made throughout the research process.
With the presence of Célia Potiron, Zas Ielhuee, Ana-Paula Mathias, Emmanuelle Hilaire, Maëlys Meyer, Mario Lopes, Daisy Lambert and Aude Konan, Madina.
Installation exhibited as part of
SEX ECOLOGIES
at Kunsthall Trondheim
, Norway curated by Stefanie Hessler and Katrine Elise Pedersen (Dec. 2021-March 2022).
Read my publication "Safous and other fruits of the future" part of the SEX ECOLOGIES book here.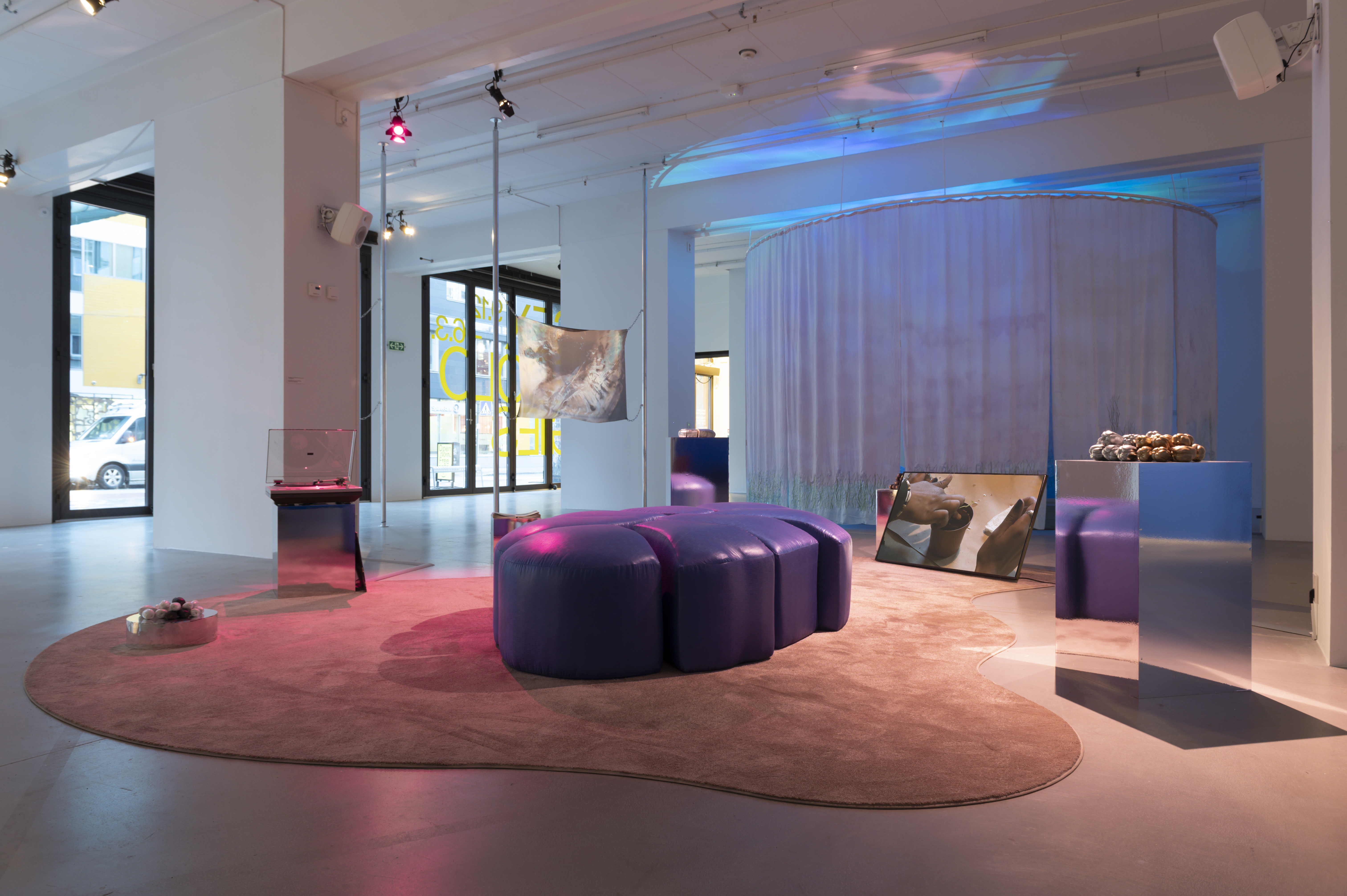 © Daniel Vincent Hansen




The Core part 1 (prototype), sculpture-cushions, bazin fabric bought in Paris' African district, Anna Tje, 2021





SAFOU LOVER POEM

I am peeling off my own skin
now stripped from these unacceptable desires
I am eating my own immigration
swallowing this trauma and condition
believing the devine flavor of my own fruit
will digest itself and flush guilt from my system
believing that acidic benefits flowing in its flesh
will overpower the bitter taste of my tied up existence
I am peeling off my own skin
I am peeling off my own skin
I am peeling off my own skin
skin of the Safou
crazy I am fou of the safou
like I love you
I am a lover
I am a Safou lover

SUPERNOVA FRUITS (45 RPM VINYL RECORD)


LISTEN TO AUDIO HERE
-
TRANSLATION/TRANSCRIPT
[market noise]
- Safous! 8 for 5€!
- The only truth (the only truth), is change, is transformation, is liberation, is emancipation, is kindness, is healing, is radical love.
[market conversation]
- Maman Agnès, How are you?
- How are you sweetheart? Come darling, I was looking for you. You gave me more currency.
- What? Really??
- Yes, I was looking for you but I didn't see you…
*Anna and Agnès
- I came to talk about fruits, to talk about my relationship with fruits, more broadly with food. I think there's this, because the last time I talked about fruits was with Anna, and it reminded me of a lot of things. I didn't realize how much memory there was in what we put in our mouths. And I also came to reconnect with myself, I think.
*Célia
- I am a.. a light skinned black woman.
*Ana-Paula
- I'm non-binary. People can see me as a woman, I don't really care. I've been called a man, no worries, like you do whatever you want, actually. But you can call me "woman" or a "man" or whatever. I'm all that.
*Sum Guak
- We're bi-categorized, and so it's true that there are all the clichés - there's the boy pack, that's it, and there's the girl pack, and it's true that I was more in the boy pack, but me it's how I felt. And so I made 10,000 efforts to be in the girl's pack, [trying to] feminize myself.
*Emmanuelle
- I am Bamileke, from the West Region, a descendant from the Tikar people. I'm a Kom. (- Bamiléké from Cameroon)
*Sum Guak
- I position myself from the point of view of someone who sees herself as African, and who sees her continent as a continent that was home to all of humanity at one time.
*Sum Guak
- I have a lesbian life, I live as a lesbian, socially... For me it's important that I say I'm black, because in Brazil there's a project called "racial democratization" which is a project of "Clariamo" (-whitening)
*Ana-Paula
- Actually I should have said something, I consider myself Caribbean.
- OK! *Sum Guak
- But at the same time it's interesting to be a black woman in France, because that's what's going to politicize me.
*Célia
- Class and race for me anyway are two things that are built to go together.
*Sum Guak
- It was Maryse Condé who said: there is no identity without social class.
*Célia
- The world is inhabited by a very polarizing force.
*Sum Guak
- For me, in fact, belonging is a survival strategy for human beings.
… I know how to use a knife.
*Sum Guak
- To cut or to kill? *Célia
- To kill. No, just to hit the spot.
*Sum Guak
- I really had the impression when I heard my black girlfriends in France say that there was really something that was projected onto the bodies of little black girls…
*Célia
- I can drink something I don't like, I can eat something I don't like.
In fact all my life I've been used to doing things I don't like.
*Emmanuelle
Supernova Fruits, video still, co-directed by Anna Tje and Ana-Paula Mathias, 2021
( My own skin... )
- Banana: Their gender is womxn, their sexuality is straight, their kink is suffocation.
Mood: tired.
*Sum Guak
- There have always been bananas at my house, there are bananas in my sister's garden, there are bananas in my father's garden, there are bananas at my grandfather's, well... And as a result, it's a fruit that we don't even buy any more, in fact. So I don't need to go to a béké to buy a banana when I'm in Martinique, OK? And even now I bring back bananas, I never bring back any food from Martinique when I come to France, now I bring back bananas, you know? I'm sick of buying bananas, I don't buy bananas in Martinique at the grocery shop anyway. It's dead! ... It's fragile anyway, you see? It's a fruit of oppression…
*Célia
- I said BDSM. Their kink: candles.
*Sum Guak
- Mum, that orange is you. I don't like that exotic term but in Europe that's how they see you.
*Emmanuelle
- The maracuja has a deep accent on its last "a". It questions me about my own country, my history, it is my own mirror.
*Maëlys
- You described that thing really well, the lack of sun. You really thought about the fruit.
*Célia
- Tomato aphrodisiac, tomato cleansing for the body, healing tomato…
*Mario
- Translation by Anna Tje, transcript by Ghalas Charara
---